Hello Blogger, Hello Windows Mobile!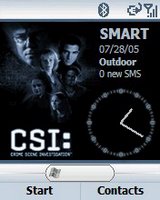 Homescreen
(noun) - A term used to describe themes (combination of images, color schemes, plugins, and sometimes sounds) used in Windows® Mobile smartphones. It is a great way to customize an otherwise dull and plain-looking mobile phone.
Homescreens will be available for download in the coming days.